Oakland is the eight largest city in California and has a population of just over 400,00 people. The city is a trade center for the state due to its port, which is the busiest in the San Francisco Bay Area. The city has a rich sporting heritage with the Oakland Raiders and the Golden State Warriors both calling the city their home.
The city has in recent years become very famous for its use of renewable energy and has started so make waves across the country for these important steps forward in saving our planet. Any trip to this fantastic city is sure to leave a lasting impression to let's take a look at the top 25 things to do in Oakland.
1. Cheer On The Champs
Right at the top of the list has to be watching a game with the Golden State Warriors. Oracle Arena is an indoor arena and home to the Golden State Warriors.  It is also the oldest arena in the NBA and has seating for just under 20,000. It has been through a number of name changes throughout the past several decades, but the modern day Oracle Arena is a crowd favorite. Recent renovations have Warrior fans excited to venture to East Oakland for a game.  Go through the game day rituals with the locals and opt to take the BART public transit line and avoid arena parking.
2. Experience Life At The Lake
In the center of Oakland is the not-to-be-missed Lake Merritt.  Historically recognized as the country's first official wildlife refuge, Lake Merritt is a large tidal lagoon that is home to many species and frequented by many local and touristic visitors. The lake features several artificial islands designated as bird sanctuaries, grassy shoes, walking paths along the perimeter, and even a boating center where canoes, rowboats, and sailboats can be rented out for a day of fun on the water. Certainly something the whole family can enjoy together.
3. Hang Out In Jack London Square
Jack London Square is a popular destination on Oakland's waterfront named after the world renowned author Jack London.  This incredibly popular entertainment and business spot boasts restaurants, stores, hotels, an Amtrak Station and much more. It is also popular for its farmers markets on Sunday mornings which always draws out the locals who are looking for some bargains.  With so much to see and do in Jack London Square, visitors will certainly find their way to this busy waterfront spot.
4. Take A Tour On An Old  Presidential Yacht
The USS Potomac was built in 1934 and is famous for serving as President Franklin D. Roosevelt's yacht.  Nicknamed "The Floating White House", the USS Potomac served great use to FDR as he used it for leisure and informal political meetings.  After his death, it was bought by Elvis Presley, who later gave it as a fundraising item to St. Jude Children's Hospital, and it eventually was sold to the Port of Oakland.  It is now preserved and sits on the waterfront of Jack London Square.  It is open for tours and offers cruises on the San Francisco Bay.
5. Reach The Top Of The City
Oakland's City Hall was once the tallest building west of the Mississippi.  This beautifully constructed three-tier historical building is a gem to see in person.  Of course it serves as the office for government officials but its top tier, which starts twelve floors above ground level, use to serve as a jail complete with 32 cells and even an outdoor yard. The outdoor plaza of City Hall also holds many free midday concerts, serving as great entertainment for the city workers of Oakland and certainly for visitors of the city.
6. Visit The Darling Dunsmuir House
The Dunsmuir House and Gardens is listed as a U.S. National Register of Historic Places and is a quaint oasis in the city of Oakland.  The mansion on the estate is of neoclassical-revival architecture and has been passed down through wealthy American families until the city of Oakland purchased the grounds in the 1960s.  Now, The Dunsmuir House hosts tours of the property and it also is a popular wedding and banquet venue, though locals first and foremost claim that it is a nice area to simply take a stroll or enjoy a picnic lunch.
7. Learn More About California's Heritage
The Oakland Museum of California "specializes in the natural science, history and art of the Golden State," as noted on the museum's official website.  An interesting, fun experience for the whole family, OMCA holds close to 2 million objects that are used to tell the history of California.  Some examples of exhibits focus on the relationship and heritage of the Pacific Islands and California, the history of the Black Panthers, and California's legalization of marijuana. Every first Sunday of the month, families enter the museum for free.
8. Walk Around Rockridge
Rockridge is one of the wealthiest neighborhoods in Oakland, it is a fun place to stroll through during a visit to this city.  Rockridge is said to be a source of much entertainment and it is easy to imagine why as within its community streets are over eighty independent restaurants, cafes, and boutiques.  Its public library is raved about and most of the stores here are dog-friendly, which without a doubt adding to its close-knit community feel.
9. Treat Your Family To The Best!
Lake Temescal is a small quaint lake situated in northern Oakland and tucked away in the Berkeley Hills.  It is a great spot for families due to its man-made beach and fun for fishers due to the lake being loaded with different types of trout, bass, and catfish. Lake Temescal has won many awards including Best of The East Bay winner for "Best Place to Take the Kids of a Hot Day" and "Best Place to Swim Laps." Lake Temescal is possible the best outdoors spot to visit in Oakland.
10. Marvel In The Beauty Of The Cathedral Of Christ The Light
The Cathedral of Christ the Light Church in Oakland is praised amongst experts as being an architectural marvel.  This contemporary-designed, high ceilinged church, along with its chapels, sit beautifully along Lake Merritt.  Visitors are welcome all days of the week to marvel the sites of the Cathedral of Christ the Light. The design and craftsmanship are spectacular and the gift shop is said to be a hidden treasure of finds during a self-guided tour.
11. Check Out A Show At Fox Theater
After having its doors closed for over forty years, the Fox Theater recently reopened in 2009 after a $75 million multi-use renovation project.  This popular spot now acts as a live music venue, an arts school, and a restaurant.  Originally a movie theater in the 1920s, The Fox Theater still shines with a roaring 20's vibe and is considered one of the best places to catch a concert in the Bay Area.  Check out The Fox Theater's official website to grab tickets to a hot new show during your visit to Oakland.
12. Take A Moment To Reflect At Oakland California Temple
The Temple sits on over eighteen acres of land and towers high over the surrounding areas. The temple is certainly one of East Bay's landmarks at 170 feet tall.  The Oakland California Temple is a great spot to stop if you want to take in spectacular views or beautiful landscaping. If you like to sit in quiet meditation this is also a great place to stop for a while. Make a stop at The Oakland California Temple and be sure to peruse through the gift shop and rooftop garden.
13. Roam Free At Joaquin Miller Park
This park is named after early Californian writer and poet, Joaquin Miller. Joaquin Miller Park is a 200 acre open space park in the Oakland Hills.  The park is heavily wooded with redwoods, oaks, and pines that are said to have been the original plantings done by Miller himself.  The area is popular for locals and tourists alike for hiking, biking, horseback riding, and picnicking.  There is also an off-leash dog area and outdoor amphitheater which is the stage for summer performances. It is always worth checking in advance what performances are happening due to their seasonality.
14. Take Part In The Good Life
The Pardee Home is a now a non-profit museum which once was home to three generations of the Pardee family, a very prominent and wealthy Californian family. This historical home is a well-preserved example of Italianate architecture and the valuable and antique findings inside are fawned over as well.  The Pardee House is open for guided tours, high-tea time parties, and even ghost tours during the evening.  Do not miss walking through this popular estate during your visit to Oakland.
15. Meet The Animals At Oakland Zoo
The Oakland Zoo in south Oakland is a charming, smaller scale zoo with modern exhibits. Despite its small size the zoo is nationally known for its state of the art animal housing facilities.  The elephant exhibit is also raved about, especially as the elephants are able to roam as close to free as is possible in captivity.  The zoo is home to over 600 national and exotic animals.  With such an array of animals you are sure to have a fun day at the Oakland Zoo with the whole family.
16. Pay Tribute To The Tribune Tower
Inspired by St Mark's Campanile in Venice, Italy, Oakland's Tribune Tower is a 305-foot, 22-story building located in downtown Oakland.  The city landmark has a clock-tower face which also adds to its iconic figure.  Though the Tribune News stopped newspaper production in 2007 at the Tribune Tower, its floors are still bustling with other businesses as well as a popular restaurant and café on the ground floor.  You will of course see this amazing building in the Oakland skyline, but you should take the time to stop by for a closer look.
17. Root For The Home Teams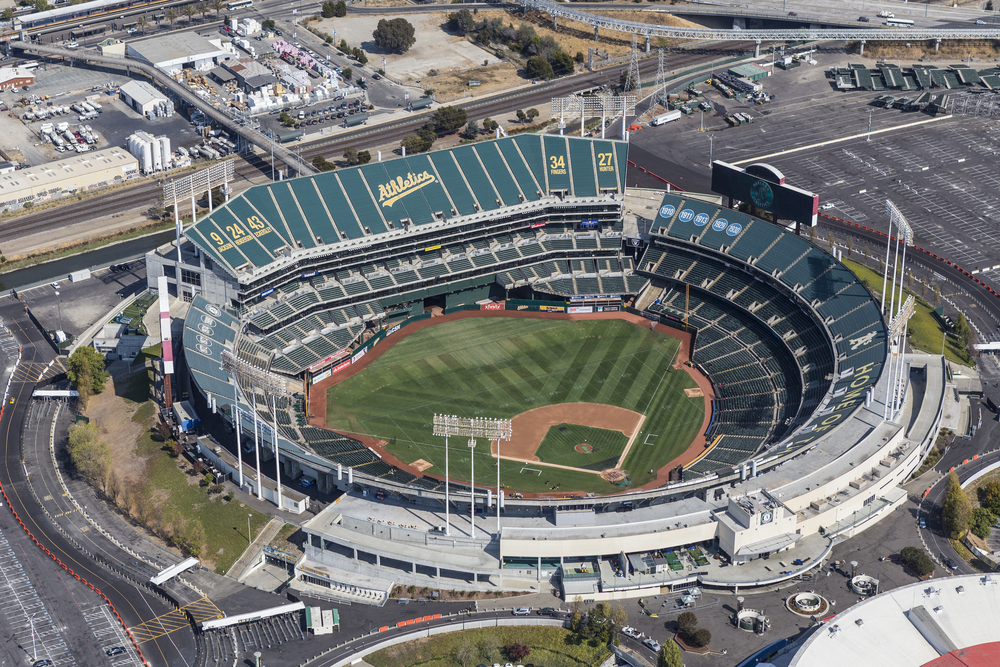 The Oakland Coliseum is home to both Oakland's professional baseball and football teams, the Oakland Athletics and the Oakland Raiders, respectively.  There is no other such multi-purpose stadium in the U.S.  The stadium is also known as its shortened nicknames, O.co Coliseum and Oakland Coliseum.  With hosting both a full baseball and football season, there is a good chance the Oakland-Alameda County Coliseum will be packed with fans during your visit to Oakland—go join them!
18. Explore The Redwood Regional Park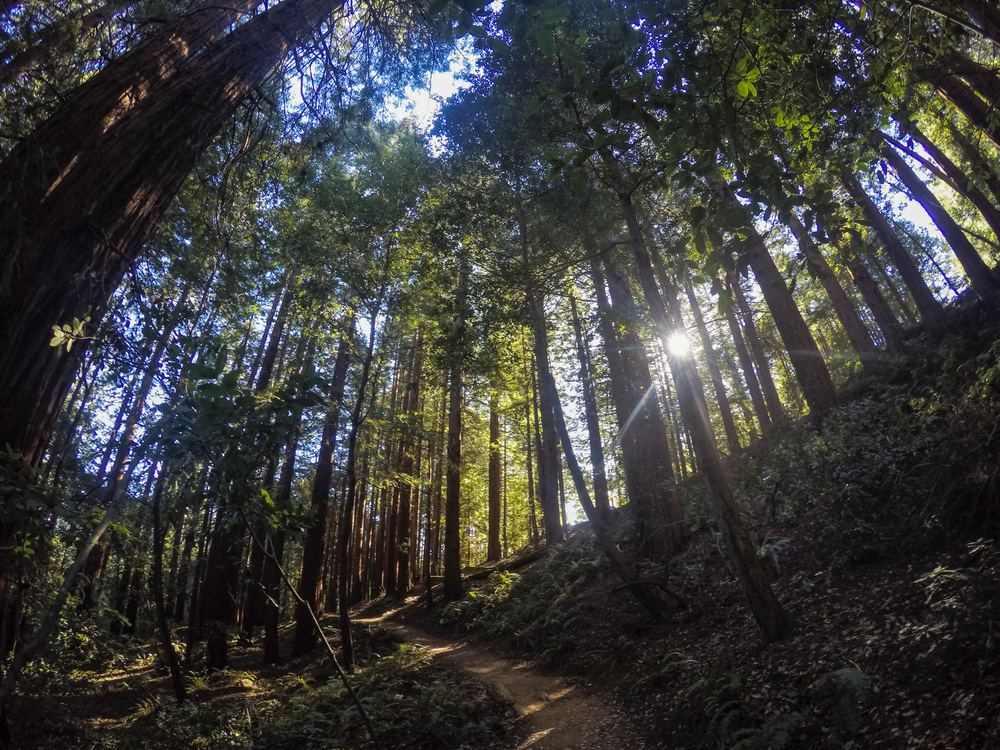 The Redwood Regional Park in Oakland is the one of the few natural wonders of its kind, and not to be missed.  The redwoods standing in the park today are mostly third-growth trees, which means they are over 100 years old. The park is a peaceful place for hikers and exploring. The park is also equipped with picnic areas, camping areas, and a playground area for children. Many wild species call Redwood Regional Park their home as well. For a beautiful day outdoors, visit Redwood Regional Park.
19. Experience Pan-Asian Culture
The "Chinatown" of Oakland is most commonly referred to as Oakland Chinatown so as not to be confused with nearby San Francisco's bigger and more well-known Chinatown.  Though of course smaller in size, Oakland Chinatown and its pan-asian culture is said to be of eclectic culture and has quite a fascinating mix of people as Chinese, Vietnamese, Korean, Filipino, Japanese, Cambodian, Laotian, Mien, and Thai are the largest in population.  Oakland Chinatown is conveniently located close to downtown Oakland and Lake Merritt.
20. Learn How We Fly At The Oakland Aviation Museum
The Oakland Aviation Museum, located next to Oakland Airport, is a wonderful non-profit museum which aims to teach its visitors the history of aviation, the Bay Area's role in the development of aviation, and aviation technological achievements throughout the years.  The museum holds over 30 vintage and modern airplanes. Both civilian and military airplanes are on display at the Oakland Aviation Museum.  Come learn more about the marvel of flying aircrafts and visit the OAM during your visit to Oakland.
21. Roam The Streets During Art And Soul Oakland
Art & Soul Oakland is proud to be one of the biggest festivals in Northern California.  The Festival lasts for only two days, Art & Soul Oakland showcases "music, food, fun, and art in beautiful downtown Oakland," states the event's official website.  Tents are set up, stages are built, and the city's closed streets are crowded during this weekend event in August.  Celebrating fifteen years of success during the first week of August 2015, this event is the epitome of a fun summer weekend with the Oakland neighbourhood.
22. Take A Deeper Look Into Outer Space
The Chabot Space and Science Center is a hands-on, out-of-this-world experience where visitors of all ages are encouraged to "be inspired about the Universe and our Planet Earth,"  Exhibits, shows, and events are all part of the Informal science education model which makes a visit to the Chabot Space and Science Center an interesting and fun experience.
23. Discover The Coffee Scene With Blue Bottle Coffee
Yes, California is known for wine, but it also becoming very popular for its coffee brewing skills as well. Blue Bottle Coffee has grown into a small network of cafes, wholesale partners, and even an espresso cart. This Oakland-based coffee company is getting big very fast and has many loyal supporters. What's better than trying a cup of joe from Blue Bottle Coffee? Check out local cafe's in Oakland, Webster Street and W.C. Morse Café to be specific, where Blue Bottle Coffee offers free public discussions, cupping, and brewing classes.
24. Cherish The Original Themed Park Of California
On the shores of Lake Merritt is Children's Fairyland, a 10 acre family amusement park perfect for young children.  The park consists of small play sets and rides, animals, and even a puppet theater.  Open Storybook Puppet Theater is the oldest continuously operated puppet theater in the United States. Morso, Children's Fairyland was the first "themed" amusement park in the country and it said that Walt Disney himself toured the park while seeking inspiration for what would become Walt Disney World.